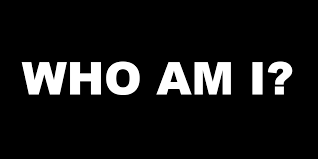 Identity! What comes to mind when referring to the word IDENTITY? For majority of my life and by that I mean it is still something that comes and goes but I have struggled immensely with my identity and what that word even means in my life. As I was diving in the Gospel of John, chapter 1 I specifically stood in awe of the entire chapter and for me verses 33 to 34 spoke about identity here's how;

John the Baptist said in these chapters "I myself did not know Him (referring to Jesus), but He Who sent me to baptize with water said to me 'He on whom you see the Spirit descend and remain, this is He who baptizes with the Holy Spirit.' And I have seen and borne witness that this is the Son of God." For me the Holy Spirit gave this to my heart as saying He gives identity I mean it is clear to see in the scripture Jesus was really a regular guy, He was not rich or standing out particularly during this time when He was beginning with His ministry, however we see how the Holy Spirit came upon Him like a dove and John continued to say at the end of verse 34 that he was then convinced that Jesus is the Son of God. Why? the Holy Spirit gave Him identity.

I then took this scripture along with a few more scriptures which I will mention, as confirmation that my identity is given, maintained and sustained by the Holy Spirit Himself. He came to live in me making me a new person, and all the changes in me are really because of the Holy Spirit. No self-help books or motivational speaker changed me, just the Spirit of God.

Having the Holy Spirit has sealed my identity, not what I do, where I am from, what I have or where I am headed to. The Holy Spirit is the only Being that continues to define me and give me identity and meaning. Romans 8:14 says " For ALL who are led by the Spirit of God are sons of God." Then verse 16 continues to say "The Spirit Himself (Meaning God Himself) bears witness with our spirit that we are children of God" So God not only affirms us but He justifies us and does not disown me when I sin, I am still His even when I sin. Check out 2Cor 1:21-22 "And it is God who establishes us with you in Christ, and has anointed us and who has also put His seal on us and given us His Spirit in our hearts as a guarantee." A guarantee of what? that I am a daughter of God the Father and I belong solely to Christ and nothing will ever undo this because the Holy Spirit who has defined me is eternal.